Name: Caleb "Cole" Mitchell
Age: 18
Years in Camp: 10
Birthday: 4 July
Gender: Male
Greek Deity Parent : Apollo
Mortal Parent: Danielle "Dani" Mitchell
Brief History:
Danielle Mitchell was a simple farm girl from Iowa. She grew up on a pig farm with nothing happening to her until she turned 26. One night, Jeanie and her friends made the drive to Davenport to go out to a club for her bachelorett party. After drinking a copious amount of alcohol, she awoke the next morning drunk and hung over.She went home and a week later was married to her long time sweetheart, Christopher White.
Nine months later Caleb entered the world. He didn't like the name Caleb, preferring to go by Cole. Instead of taking his stepfather's name, he took his mother's maiden name. He spent his childhood on a small dairy farm in Iowa. Growing up he had several pet goats and a buzzard with one wing, that his mother had saved, that liked to have it's head scratched.
At age five he was diagnosed with ADHD and dyslexia. It was at this time that the visions started. The were horrible and full of death and carnage. No matter how hard he tried he could never escape them or change them. Luckily, they never starred any of his family, which would come to number eight including him. Each vision was different, some would be very weak while others would be very strong. After every one he would develop a terrible chill, his body temperature a degree or so lower then normal. He also suffered for bouts of nausea Later on, as he grew older, he would learn that the clearer the vision, the more definite the outcome.
From a young age Cole was drawn to music and art. He excelled at all forms of art.
On his sixth birthday Cole got the surprise of his life. While blowing out his birthday candles, a holographic image in the shape of a sun blinked into life over his head, causing a huge ruckus. A blinding light filled the room, and a man dressed in white robes and a blinding crown stood across the room, causing Christopher (his stepfather) to faint. He gave Cole a shield with an engraving of a sun on the front, then tapped it, turning it back into its sheath, in the form of a black wristband with a sun logo on it. Apollo left without revealing who he was or what the symbol meant. A few days later a furry man that was half goat appeared and took the time to explain to the White family what the image had meant. The satyr saw no harm in leaving the child with his mortal family. Their farm seemed so isolated that no monsters had found the boy yet.
He was ten when he was attacked for the first time. While on a trip to the zoo with his mother and younger siblings he was attacked by a minor monster, which his little sister somehow managed to push into the lions' exhibit. He then decided to go the the Half-Blood Camp that the satyr had mentioned a few years before.
Personality:
Flirtatious = Too many beautiful girls, so little time. Flirting comes naturally to Cole as breathing, this is why he was thought to be a child of Aphrodite at first. It's a reflex to any living female within a ten-foot radius. He just likes the challenge of making girls fall for his charms. And charming, Cole really is. Not really the smooth, suave type, he is more of the "Hey baby, you're cute. Wanna go on a date?" type. He can be a bit rude and obnoxious, but he isn't one to beat around the bush. He is also a playboy, never having a serious relationship for once in his life. He gets bored easily, and thinks clingy girls are a nuisance. Once it's over for him, it's over.
Happy-go-lucky = Cole is very laid back. He loves the finer things, and doesn't think much about problems and anxiety-causing thoughts. . He also laughs a lot and rarely ever gets upset or temperamental.
Extremely blunt = Cole is all about honesty. He can be cutting and direct to the point, but you can be sure he never lies. He doesn't care if the truth hurts as long as his message comes across that person. And, sibling or not, he is brutally frank, sparing no one with his biting tongue. Doesn't caring much for emotions, he can come across to those who don't know him well as cold and callous. But that's just who he is, he says it like he sees it.
A bit insane = Cole can be very outrageous, doing crazy things that, oftentimes, would put even his father to shame. He is your regular I-don't-give-a-crap-what-other-people-think kind of guy. He doesn't ask permission or approval from others in doing what he wants, and he does what he pleases, even if sometimes it means crashing and burning. Cole has a Devil-may-care attitude, oftentimes making him extremely stubborn and bullheaded. His personality clashes a lot with other campers, but he shrugs it all off. His intentions aren't malicious nor mean, though. He just is extremely outspoken, saying everything that's on his mind. If you can't stand the heat, stay out of the kitchen. Most can't understand him, however, and would feel insulted by his choice of words.
Physical Appearance :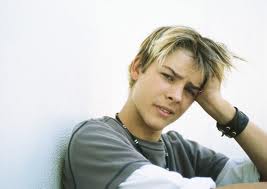 Cole stands 5 feet 10 inches tall. He weighs roughly 175 lbs, mostly muscle, from learning to use a staff and sword, training with Ares and Athena cabins helped with that.
His hair and eyes are strange, as they change colors depending on where the sunlight reflects off them (or not). His eyes can be blue, green or hazel. He has an average looking smile. There are scars on his right arm, most notably a long deep red gash from his first monster attack, and a small one under his left eye, from capture the flag his first year, due to the fact that his armor was way too big and he tripped, hitting his head on the creek bank.
Fatal Flaw: Personal Loyalty - Cole will risk his life for anyone he considers a friend
Demigod Ability/Abilities: The children of Apollo have many minor abilities. When in the sunlight all of their abilities are stronger. They have keen, discerning eyes that make them excellent archers. They are gifted with beautiful voices, but their songs are nothing special. They are excellent at enchanting their arrows. The children of Apollo are often good doctors. Their healing abilities are not supernatural, but they have a knack for medical knowledge. Cole is rare, though, and can bend sunlight into a sort of spotlight, and can use the sun's heat to warm himself and others
Hobbies/Talents: Archery, Flirting, he is also adept at use of a staff and sword
Pets: none